African American Studies
Therapeutic High Schools
Healing in the Age of Ethnic Studies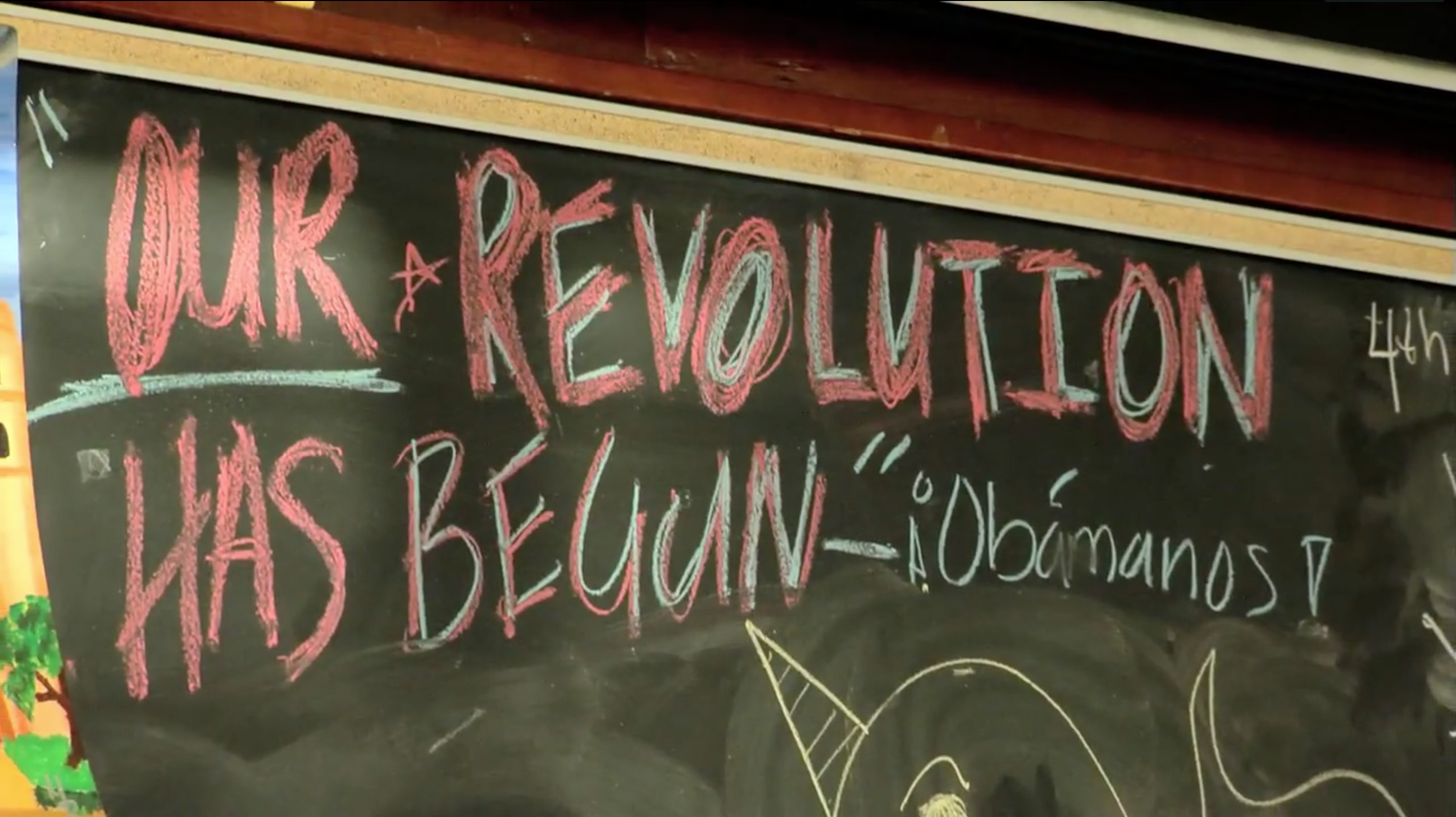 Preface
I took "Intro to Latina/o Studies" the winter of my first year at Northwestern. One of the class periods, we watched Precious Knowledge, a documentary where students, educators, and community members share their testimonies after being affected by the ban on Tucson's Mexican American Studies Program. It was not my first time hearing about the film as it had become particularly relevant to the situation back at my high school. Sitting there, in my first Latina/o Studies class in college, I squirmed in my seat and wanted to scream "IT'S HAPPENING IN CHICAGO, TOO!" In fact, students back home were watching the movie as well, trying to get in touch with the organizers in Arizona—to get their support and advice. So I raised my hand at the end of class and talked about a Latina/o Studies class in Chicago that could face a ban in the near future. I remained in touch with my friends fighting this attack on the Latino Lit. and African American Lit. classes we had learned to care so much about. That winter, those students and more would watch Precious Knowledge and host discussions around it and how it paralleled their own situation. They would take action, too. Starting with a petition that quickly enough garnered attention from the school administration, CPS, and a local news outlet.
As a former student of JCP, I was lucky enough to have the opportunity to take the Latin American Literature class. Every single day I would learn something meaningful about my heritage that I didn't know before because we're never taught it. Taking this class empowered me and inspired me, and I believe that everyone deserves to take this class for credit.
– Ivonne Saldaña, from the petition to credit African American Literature and Latin American Literature as CPS graduation requirement
Introduction
I am a working class Chicana with im/migrant parents from the Southwest Side of Chicago. This is the background of most of us from this part of the city—predominantly Mexican, living close to the factories, brown folks buffering Black and white (ethnic) neighborhoods. From kindergarten to high school, I attended Chicago Public Schools (CPS) and became part of a school district with over 396,000 students in more than 600 schools. [3] With (over) 90 percent of those (us) students being of color, our educations were (are) impacted by multiple assemblages of colonialisms—here in Chicago and everywhere else in the world, across space and time. Students, then, carry these histories with them everyday when they walk into their—hyper-segregated—classrooms. This is, in part, the context in which several generations of students at William Jones College Preparatory High School (JCP) in Chicago have matriculated into "African American Literature" and "Latin American/Latin@ Literature" courses since 2006. These are both core English classes offered at Jones for juniors and seniors that survey a variety of Black and Latina/o works (Appendix A).
3. "CPS Stats and Facts." cps.edu. Chicago Public Schools, 5 April 2016, cps.edu/About_CPS/At-a-glance/Pages/Stats_and_facts.aspx.
Roadmap
Nevertheless, these two Ethnic Studies courses and, more widely, an epistemology of Ethnic Studies in Chicago's high schools are yet to be addressed by scholars. To guide my own work concerning these matters, I begin by presenting the theoretical frameworks guiding my research, including Dian Million's concept of "therapeutic maneuvers" in Therapeutic Nations.[7] This concept provides important theoretical understandings that I use to study the racial-colonial relationship of power between high schools and students of color in the context of the institutionalization of Ethnic Studies at large. As I will explain further, seeking to meaningfully engage with Ethnic Studies in high schools necessitates an interdisciplinary study grounded in critical interrogations of coloniality and race governance. In this thesis, I analyze testimonies, news and popular media, education statistics, curriculum, and theories about racial-colonial power.
To contextualize my case study of Chicago Public Schools' (CPS) Black and Latina/o students and Ethnic Studies at Jones College Prep within our current historical conjuncture, I begin by reviewing literature concerning Ethnic Studies. Chapter I, "Therapeutic Ethnic Studies," seeks to provide a deeper understanding of these discussions surrounding race and education by analyzing critical perspectives concerning 1) the history of and contemporary Ethnic Studies and 2) the institutionalization of Ethnic Studies and critical consciousness.[4] Within this chapter, Section 1, "A Genealogy of Ethnic Studies," demonstrates that Latina/o Studies and African American Studies courses in Chicago are not new phenomena, but rather a part of a prolonged struggle. In Section 2, "Institutionalizing Ethnic Studies," I study concurrent attacks on and the institutionalization of Ethnic Studies at the high school level, both of which I will further discuss by drawing on literature about institutionalization within the academy. This includes the Arizona ban on Ethnic Studies and the rise in California's legislative support for Ethnic Studies. I argue that these forces only seemingly operate in contradiction to each other, raising important questions about the future of Ethnic Studies.
In Chapter 2, "The Chicago Fight for Ethnic Studies," I study the racialized relationship between high schools and students of color, focusing on Black and Latina/o students in Chicago through the Ethnic Studies classes offered at Jones College Prep. Section 3, "Chicago," analyzes the conditions and practices of racial governance that necessitate Ethnic Studies within the settler colonial and post-colonial formation of the city. Traditionally, youth in Chicago and the urban Midwest at large have not been considered in discussions concerning the current state and future of Ethnic Studies in high schools. Calling attention to how CPS governs Black and Latina/o students through race, gender, sexuality, class, and ability, then, is necessary for moving these discussions further. Section 4, "The Jones Story," tells the story of the struggle at Jones College Prep to save "African American Literature" and "Latin American/Latin@ Literature" between 2012 and 2013. Given everything that is at stake for Black and Latina/o communities in today's neoliberal educational landscape in Chicago, I conclude this student-led struggle holds many ongoing lessons about the movement of Ethnic Studies and the decolonial imaginaries offered by women of color and Chicana feminisms.
7. Million, Dian. Therapeutic Nations: Healing in an Age of Indigenous Human Rights. The University of Arizona Press, 2013.
4. Hall, Stuart."Cultural Identity and Diaspora," Colonial Discourse and Postcolonial Theory: A Reader, edited by Patrick Williams and Laura Chrisman. Columbia University Press, 1994.
Frameworks
Racial-Colonial Governance
First, in this thesis, I do not privilege "Black," "Latina/o," "Chicana/o," or "Native" as phenotype, but rather engage their construction through a genealogy of race. Similarly, I do not refer to whiteness as phenotype. Instead, I refer to whiteness as a project and the ways in which it is carried about by processes that (re)create each other. Whiteness expands and contracts strategically through education and schooling, but also citizenship, labor, sexuality, health, etc. Coloniality and its constant reinforcement produces a knowledge-power interface that "makes us see and experience ourselves as 'Other.'"[4] Constituted through enslavement, conquest, and exploitation, violent practices have allowed for the naming and cultivation of regions and the non-European, non-white "Other." I refer, then, to the ways in which whiteness signifies the effect or impact of what Barnor Hesse delineates as "the European colonial historicity of modernity from the sixteenth century onwards [and] the European scientization of the Enlightenment discourse of race during the eighteenth century."[5] During this period, the constitution of race became increasingly consolidated through colonial practices of governance and domination which have constructed whiteness. "Race governance was constituted as a set of colonial practices meant to brand, bind (geopolitically), mark, and distinguish peoples and territories for colonial governance."[1] In other words, Western modernity rules and colonially constitutes "race" through racialization, classification, and categorization. These are the histories, processes, and conditions that I will refer to with the use of "racial-colonial" governance throughout this thesis.
4. Hall, Stuart."Cultural Identity and Diaspora," Colonial Discourse and Postcolonial Theory: A Reader, edited by Patrick Williams and Laura Chrisman. Columbia University Press, 1994.
5. Hesse, Barnor. "Racialized Modernity: An Analytics of White Mythologies." Ethnic and Racial Studies, vol. 30, no. 4, 2007.
1. Bryant, Sherwin. Rivers of Gold, Lives of Bondage: Governing through Slavery in Colonial Quito. The University of North Carolina Press, 2014.
Therapeutic Maneuvers
In this thesis, I would like to offer another way of thinking through the ongoing institutionalization of Ethnic Studies and what it means for high school students of color. When I speak about Ethnic Studies becoming institutionalized, I refer not only to the increasing establishment of Ethnic Studies courses in schools, but also to the absorption and co-optation of Ethnic Studies into liberal multicultural politics. Since I graduated from my own high school Ethnic Studies experience, it has been important for me to bear witness to what this time meant for me and my classmates. I do this because these courses in Chicago are not well-known, even though they can be so transformative for the students and educators involved. Indeed, their impact does not end after the class is over. Christine Sleeter writes, "well-designed and well-taught ethnic studies curricula have positive academic and social outcomes for students."[10] In this way, I began this project with the goal of making the case for Ethnic Studies in all of Chicago's high schools. Currently, as I will examine, the case for Ethnic Studies in high schools is being made. In fact, it is being made all throughout the country—but it is not based out of Chicago or seriously considering what Ethnic Studies might mean in Chicago, home to the third largest school district in the U.S.[12] I say this to be clear about how and where Chicago fits into the current movement for Ethnic Studies. As someone invested in the liberatory possibilities of Ethnic Studies for younger students, I am certainly implicated in the responsibility of raising awareness about the state of Ethnic Studies in Chicago's K-12 schools. Therefore, I suggest that given how under-theorized Ethnic Studies is in Chicago and the urban Midwest, the specificities of Chicago—from its settler colonial inception to becoming the most segregated city in the U.S. to the current Chicago Public Schools (CPS) crisis—can offer something new for/as the case for Ethnic Studies continues to be made. My contribution to this movement for Ethnic Studies, and my way of giving thanks to everyone in Chicago who has taught me Ethnic Studies both in and out the classroom, is to think critically about the local and inter/national context in which this case is being made. Given the history of the prolonged struggle for Ethnic Studies, including high schools, how is this case still being made? Who makes the case and who decides it? How has it changed?
10. Sleeter, Christine E. The Academic and Social Value of Ethnic Studies: A Research Review. National Education Association, 2011, nea.org/assets/docs/NBI-2010-3-value-of-ethnic-studies.pdf.
12. Snyder, Thomas D., and Sally A. Dillow. "Digest of Education Statistics – 2013." National Center for Education Statistics, 2015, nces.ed.gov/pubs2015/2015011.pdf.
In this way, Dian Million's Therapeutic Nations: Healing in an Age of Indigenous Human Rights challenged my engagement with the growing movement for Ethnic Studies in high schools. Rather than focusing on the testimonies of transformation lived by young Ethnic Studies students, which will always be necessary, I seek to explore the power relations surrounding our testimonies and what this tells us about our current conjuncture. In Therapeutic Nations, Million speaks to the institutionalization and medical pathologizing of trauma and healing in Indigenous communities by the (settler) state. This tension, for Million, brings therapeutic maneuvers to the forefront.
Accountable to indigenous feminism, Million studies the development of indigenous practices of self-determination vis-à-vis Post-WWII international human rights and neoliberal governance. Million traces the complex ways in which there has been a shift from 1960s to 1970s indigenous collective struggles for self-determination. Million describes how settler states, specifically focusing on Canada and the U.S., in many ways co-opt the decolonial impetus of healing collective colonial trauma. Settlers continue to reify a colonial relationship of power obfuscated by "progressive" human rights discourses and practices. Million writes, "My first observation in this vein is that the international law that enables indigenous trauma to appeal for justice is the same sphere in which we articulate political rights as polities with rights to self-determination. I don't see these as necessarily compatible projects."[7] This marking of that colonial relationship in a subject-object dialectic still constitutes a therapeutic maneuver and develops therapeutic (settler) nations, like Canada and the U.S.
Centering indigenous women in her analysis, however, Million traces a genealogy of biopolitics and gendered violence against them as practices of racial-colonial governance that are ongoing through therapeutic maneuvers. Million both honors movements of the past and present while cautioning the difference between being recognized as individuals requiring healing from colonial trauma and as a collective people seeking decolonization. This is the difference between seeking recognition from the state which turns indigenous healing into a spectacle and dismantling structures that continue to necessitate that suffering and healing. A key aspect of therapeutic maneuvers is that they privatize and individualize our traumas, rather than being primarily invested in collective liberation.
7. Million, Dian. Therapeutic Nations: Healing in an Age of Indigenous Human Rights. The University of Arizona Press, 2013.
Million, moreover, dedicates a significant section of her argument to placing U.S. and Canadian settler colonial residential boarding schools within this genealogy. Million traces how historical trauma as a concept is so significant because of the indigenous testimonies, legal cases, and attention finally brought forward by residential school survivors.[7] This concept, historical trauma, formulates one part of the work that the settler colonial state has actively sought to institutionalize. Million's analysis of this incorporation of historical trauma as a therapeutic maneuver has a lot to teach us about how we might articulate our traumas differently. Indeed, how might we make the case for Ethnic Studies differently—if we even need to make a case at all? Thus, I frame my thesis with Million's work on therapeutic maneuvers to put a primarily Black and Latina/o Chicago in conversation with Indigenous Studies. This history of colonial schooling, historical trauma, and settler colonialism also marks the inception of "Chicago." While Indigenous Studies is in itself interdisciplinary, this thesis is also grounded in Critical Ethnic Studies at large and Post-Colonial Studies, Critical Race Theory, and Chicana Feminism to critically discuss (neo)liberal multiculturalism, the colonial constitution of race, and decolonial pedagogies. By placing these in conversation with the current state of Ethnic Studies in Chicago, like Million, my own cautionary tale emerges.
Currently, Ethnic Studies is engaged in this tension between the history that necessitates it and the ways in which it might be more useful to the state. Therefore, what conditions, processes, and histories have necessitated the implementation of Ethnic Studies, particularly Latina/o Studies and African American Studies, in the context of the urban Midwest in Chicago public high schools? My main research question thus is how can we understand the relationships of power between the institutionalization of Ethnic Studies by high schools in our current conjuncture and a genealogy of violence against students of color? Finally, what can a growing movement of Ethnic Studies learn from our current struggles to resist therapeutic maneuvers in Chicago?
7. Million, Dian. Therapeutic Nations: Healing in an Age of Indigenous Human Rights. The University of Arizona Press, 2013.
Conclusion
In this conclusion, my first goal is to affirm how the Ethnic Studies struggle at Jones College Prep in Chicago is an example of resistance against the racial-colonial schooling apparatus, but also a call for a changing consciousness about Ethnic Studies. In the face of ongoing settler colonialism, post-colonial paradoxes, and the institutionalization of Ethnic Studies, we must think differently about Ethnic Studies itself. My second goal is to highlight the role of Third World and women of color feminist theory in disrupting the institutionalization of Ethnic Studies. Rooted in my time at Jones, I offer a final autobiographical narrative, or testimonio, to underscore the importance of women of color methodologies in changing consciousness. Chicana feminism, in this context, produces new interventions in building solidarity across indigenous and subaltern education movements all over the world.
Changing Consciousness
It is time to meaningfully consider the future of Ethnic Studies within high schools. In a similar but different context to universities, high schools increasingly institutionalize and exceptionalize Ethnic Studies, allowing it some sort of space while operating under the racial-colonial governance of school systems such as Chicago Public Schools (CPS). The struggle for K-12 Ethnic Studies is not just new or urgent, but rather part of a global genealogy of race and colonial schooling. Educational therapeutic maneuvers only encapsulate the Post-Arizona, neoliberal specificities of our current conjuncture. In the end, Ethnic Studies does not produce a reconciled history between our communities and the state. The value of an Ethnic Studies program, course, or curriculum will not end racism or white supremacy. Ethnic Studies can, however, help us develop a changing consciousness to think of new ways we might build something different. As Cherrie Moraga wrote on the fortieth anniversary of Ethnic Studies, "If it were possible, what questions would we ask of our elders, our storytellers, our ancestors, our scribes and scientists?"[8] What will people one day ask of us? Where is (was) our work?
8. Moraga, Cherrie. A Xicana Codex of Changing Consciousness. Duke University Press, 2011.
In A Xicana Codex of Changing Consciousness, Moraga returns as a scribe from within the current epoch, the new Sun, intervening specifically in the distancing of Chicana/os from indigeneity. The title of her book alludes to Xicana/o genealogies of mapping our journeys and an indigenous epistemology of the simultaneity of past/present/future. Drawing upon that indigeneity, then, Moraga urges a changing consciousness—to remember, witness, story tell, and write—"to allude to a future for which we must prepare."[8]
8. Moraga, Cherrie. A Xicana Codex of Changing Consciousness. Duke University Press, 2011.
Inspired by Moraga's focus on indigenous and non-white processes of knowledge production, I attempt my own codex. Based out of Chicago, I imagine that the grassroots campaigns and community organizing around public schools in this moment are giving us another chance to transform Ethnic Studies. The Ethnic Studies movement of the 1960s and 1970s never ended—the struggle only continues. This is reflective of critical community activism in the face of educational crises happening throughout the country. For instance, the recent Dyett Hunger Strike in Chicago and its example of non-cooperation with CPS shows us the complexities and possibilities of being "renegades of the system."[6]
6. "Hunger Strike to Save Dyett High School in Bronzeville!" Teachers of Social Justice, 2015, teachersforjustice.org/p/hunger-strike-to-save-dyett-high-school.html.
On August 17, 2015, twelve parents, educators, and community members (primarily mothers) began a 34 day-long hunger strike to save and revitalize Chicago's Dyett High school campus in the historic Black neighborhood of Bronzeville.[6] Putting their bodies on the line, the hunger strikers and their supporters demanded accountability from CPS and connected their struggle to racism in the school system overall. Today, the fight for the implementation of their proposal continues. #Fight4Dyett echoed similar hunger strikes to save schools in Black and Latina/o areas, but this time in the aftermath of the most school closings in Chicago history in 2013. Disrupting the racial-colonial relationship between communities of color and schooling apparatuses, this is what Ethnic Studies looks like. Changing consciousness, Chicago organizing for liberatory and/or public education might engage in the movement for Ethnic Studies differently.
6. "Hunger Strike to Save Dyett High School in Bronzeville!" Teachers of Social Justice, 2015, teachersforjustice.org/p/hunger-strike-to-save-dyett-high-school.html.
Chicana Feminism
The spring of my first year on campus, author, poet, and founder of Xicanisma Ana Castillo gave a talk. Along with my Latino Lit. teacher from high school, I attended her platica and went up to meet her at the end. This visit was big for us because we read the entirety of her Massacre of the Dreamers in the course. And we wanted to make sure she knew that. "We're teaching your book at your old high school, Ana Castillo, but they're trying to ban it like they're doing in Arizona, what do you think?" How could I possibly let her know in two minutes just how much her work had meant to me—to us, to all of us in 5th and 7th period Latino Lit. How could I tell her that we had to read certain sections multiple times, that sometimes our own internalized oppression had made her seem too angry, or that sometimes reading her work felt like she was reading our minds. Maybe one day there will be time for all of that. For the purposes of this encounter, Ana Castillo told us to keep fighting for Ethnic Studies and why she thought that work was important. She would keep us in her thoughts, she said. Looking back, I believe that one of the reasons why Mr. Saldivar's pedagogy has been so powerful is because of how much time we spent on Xicana feminist texts—which many might say are too much or too complicated for 11th and 12th graders. But too many people go their whole lives without reading or knowing the work of Xicanas. So, in reality, these texts are just right.
In this way, too, Mr. McHenry centered Black feminist texts in the African American Literature course at Jones. To conclude, however, I will highlight the importance of Xicana feminism because I studied Latino Literature from 2010-2011. While I studied under Saldivar, the course dedicated a large amount of time to introducing students to women of color feminism. We read Chicana feminist thought the most, a framework which we had to apply throughout the entire school year. Through Chicana feminism, we thought about themes such as indigeneity, gendered violence, and the Borderlands—particularly through Gloria Anzaldúa, Ana Castillo, and Cherrie Moraga. Not only did we read this theory, but we were also expected to apply it to our own lived experiences through writing, projects, and service learning—through a queer Chicana feminist lens. Breaking down these texts as a class was hardly easy, but it was powerful.
While this Chicana feminist framework was adjusted for the purposes of a Latino Literature class in a selective enrollment high school in Chicago, and it will look different in another community and be circumstantial, a Third World and women of color feminist lens remains imperative no matter where. Not to be simply relegated to the past as a movement by women of color of the Global South, Chicana feminism and Third World/women of color feminist theory are not just examples of oppression, but rather constitute a methodology of the oppressed. Set against the backdrop of the 1990s, Chela Sandoval theorized how women of color subjectivities and praxis manifested an oppositional consciousness (or a "new consciousness" or "changing consciousness" depending which Chicana you ask). She writes:
As such, U.S. third world feminism is not inexorably gender, nation, race, sex, or class linked. It is, rather, a theory and method of oppositional consciousness that rose out of a specific deployment, that is, out of a particular tactical expression of U.S. third world feminist politics that more and more became its overriding strategy. The tactic that became this overriding, differential strategy is guided, above all else, by the imperatives of social justice that can engage a hermeneutics of love in the postmodern world.[11]
11. Sandoval, Chela. Methodology of the Oppressed. University of Minnesota, 2000.
This commitment to changing consciousness is foundational to Third World feminism, and continues today in the "Latin American/Latin@ Literature" course at Jones. In Appendix E, I include two out of the hundreds of responses published on a public blog, "Critical Insights in Latino Literature," where Latino Lit students respond to key texts in the course—such as Ana Castillo's seminal Massacre of the Dreamers. These two examples of responses by Jones students highlight discussions about consciousness raising and language within the course. They respond by stating, for instance, "Ana Castillo writes of how the education system can be utilized to give Chicanas a new consciousness that serves to empower themselves," and "Conscientization, has a loose translation in English to consciousness raising is presented in this chapter through the way women of color write and present their stories. They must "learn to voice the contradictions" and not only acknowledge them but embrace and live with them."[2] These students engage within a decolonial imaginary—a space of the methodology of the oppressed and changing/differential consciousness. This space can transform Ethnic Studies and high schools if we let it.
2. Castillo, Ana. Massacre of the Dreamers. Plume, 1994.
Situating our gente genealogies, picking up the pen, and operating within a decolonial imaginary requires us to declare the ground from which we speak, our "sitios y lenguas."[9] I speak from twenty-one years in Chicago, living on lands that are not of my own ancestors. I speak out of love for re/imagining our relationships to one another, and I believe Ethnic Studies within high schools can be one part of that decolonial process. Continuing to disrupt the racialized relationship of power that (settler)colonialism created between students of color and the schooling apparatus requires changing consciousness, love, and solidarity beyond the sanctity of geo-political borders, honoring the work Third World women and women of color have always done, imagining for us a transitionary space—like from Chicago to Ayotzinapa.
9. Pérez, Emma. The Decolonial Imaginary: Writing Chicanas into History, Indiana University Press, 1999.
From Dyett to Ayotzinapa
From September 25th to 27th 2015, a 43-hour vigil was held in front of the Mexican Consulate to commemorate the one-year kidnapping of the 43 Ayotzinapa students in Iguala, Guerrero. On a 43-hour hunger strike for the entirety of the vigil was a mexicana, Laura Rámirez, a graduate student and major liaison between the parents of the 43 and organizing being done in Chicago. That weekend folks came and went on the corner of the consulado, honoring the organizing directed at efforts by the Mexican state to disremember and forget the students' lives and disappearance. We chanted, created art, and talked to passerbys whenever we visited Laura. It seemed like a small action, but we did what we could. There are moments where we try our best to poke holes and make spaces of love and hope for each other in a world that does not stop—especially a world that does not stop for 43 missing indigenous students in Mexico. No hay pero lucha que la que no se hace. So the second time I went back to visit Laura that weekend, I stopped to read a note left in support. Written by one of the mothers from the recent Dyett Hunger Strike, it was a love note. From one mother to many others, from one people to another, and a part of all the love that receives little attention but is given mutually between Black communities in the U.S. and Mexican communities trans/nationally in the face of recent crises. From Dyett to Ayotzinapa, we are all doing what we can.
I love you (All 43 of you). I love your families too! I wish our world was a better place and if everyone was like me and each of you it would be. As we continue to keep you guys up in spirit we will never give up searching for you. Love Forever & Power, Dyett Hunger Striker.
Pílon
The culminating project for Latino Lit. in high school was to write a research paper. We were given a template from which we unknowingly produced an abstract, literature review, and analysis grounded in our own lived experiences. I was freaking out the week our topics were due because I could not figure out my research question. After lying to my Black and Latina/o literature teachers that I was crying because my dog, Buki, was dying (which he was) instead of because this project was hard, I said, "Maybe I'm just trying too hard to make this deep." To which my teacher answered, "It does have to be deep." In the end, I wrote a paper titled "She is a Dreamer, but She is not the Only One: Revolución." Using five of the Latina and Xicana feminist texts we read in class, I argued for the responsibility of Chicanas to recognize themselves and their communities as centers of knowledge. Back then, I called this "received knowledge over personal narrative." I was so scared about my final project because I cared so much about it. This was true of my friends and classmates as well. It felt as if our lives were on the line. And indeed, they always are:
Chicanas cannot afford to have their lives narrowed down; indeed, our stories are long and real and rich. Contrary to popular belief, a Chicana cannot afford to focus on others for knowledge, and especially not those outside of her who seek to dehumanize her. Facts are facts, and they do not go away when we ignore them. However, if we cannot relate them with anger, compassion, hope, and love, we cannot see how to act against them. When she finally understands her power as it relates to others, her dreams plant the seeds of a future that is truly better. It is a love that sees beyond borders and labels. It is a love that breaks the tradition of silence. In this way, she will tell stories forgotten. If she does not, who will?
ABOUT THE AUTHOR
Cinthya Abigail Rodriguez