Communication Studies
Making Mainstream Asian America
Productions and Representations of Asian American Identity in Television and Web Series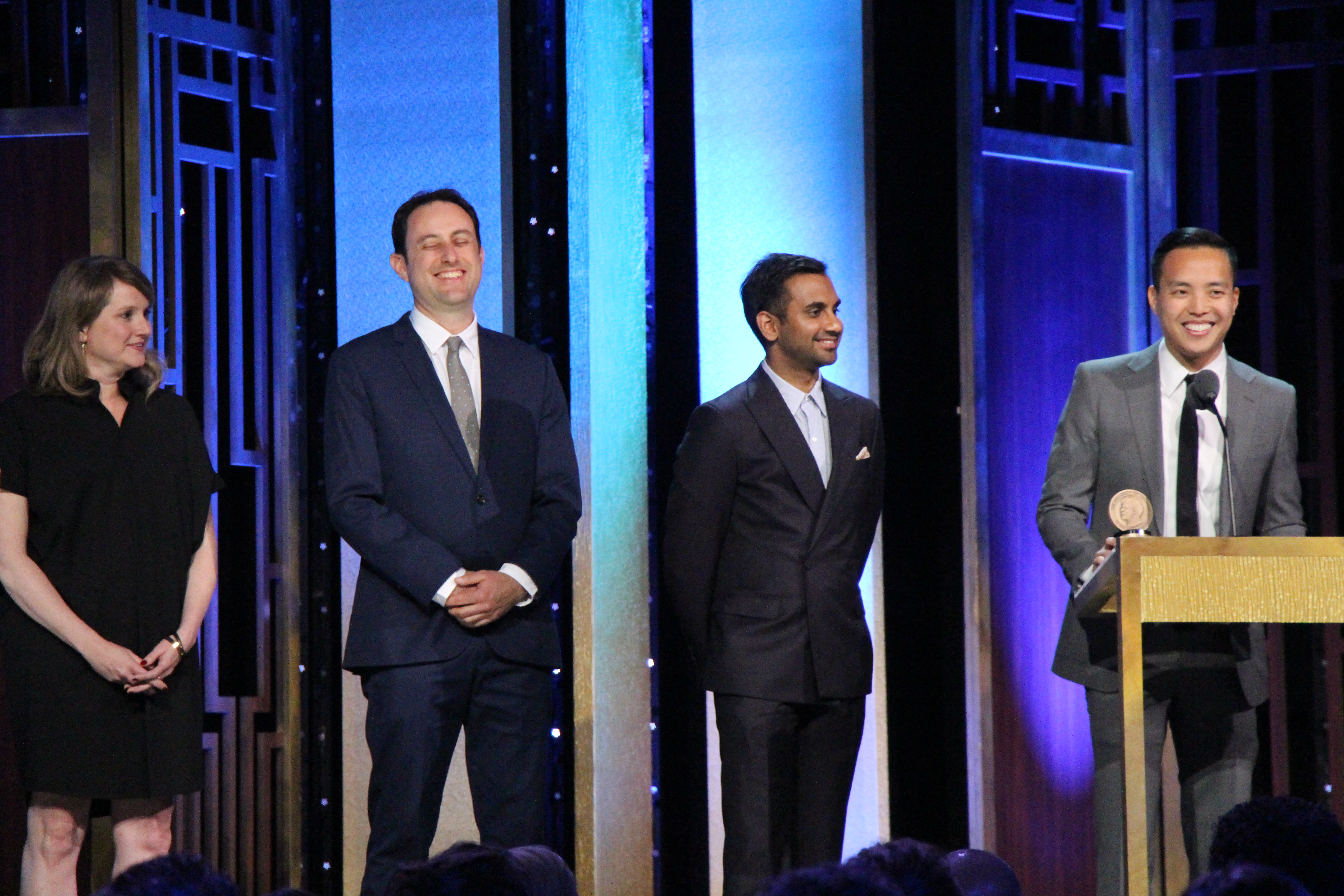 Abstract
The appearance of Asian Americans in leading, dynamic roles on mainstream network and online television in 2015 on the shows Fresh Off the Boat, Dr. Ken, and Master of None was lauded as a historic moment for Asian American media representation. After over a century of ongoing racist misrepresentation and marginalization, the mainstream media progress of the past year cannot be simply attributed to an inevitable trajectory of American society's racial progress. Instead, factors such as recognizing Asian Americans as an economically viable "model minority" consumer market, shifting modes of television viewing practices, and increasing success of Asian American YouTubers came together in this moment for Asian Americans to re-emerge on network television. This thesis seeks to explore the context of productions of current Asian American media series as well as the various representations of Asian American identities found in current network television and web series. Representations of Asian American identity will be observed through in-depth individual and comparative analyses of selected episodes and videos from Fresh Off the Boat, Dr. Ken, Master of None, Wong Fu Productions, FungBrosComedy, and Anna Akana. Unpacking these Asian American representations also accounts for gender, sexuality, and racialized performances of Asian American blackness. While current manifestations of Asian Americans popular media have subverted mainstream white dominance through addressing anti-Asian racism and telling Asian American stories, the most popular works continue to reproduce imagery that is heteropatriarchal, self-orientalizing, and narrow in scope compared to the reality of a heterogeneous Asian America.
This thesis excerpt outlines the factors contributing to more leading, dynamic roles for Asian Americans in mainstream media.
Part 1: The New Mainstream of Diversity
Since the 1800s, the concept of the Asian American has undergone manifold iterations in media representation. These representations have racialized, essentialized, stereotyped, and conflated the multiplicities of the Asian American experience to exclude and erase Asian Americans from dominant white society, yet simultaneously exploit them for their labor and capital. Studies and publicized reports of Asian American consumption have made it clear that an Asian American presence (and "diversity" in general) in the media would indeed be profitable for advertisers and the network television industry. Nielsen's 2015 Asian-American Consumer Report, titled Asian-Americans: Culturally Connected and Forging the Future constructs Asian Americans as a diverse, multicultural population who maintain "strong ties to their cultural past" and have significant buying power and social influence in "an increasingly multicultural mainstream."[16] This multicultural mainstream counters the assumptions that the American mainstream is predominantly white and calls for the inclusion of desirable segments of marginalized populations as a necessary move for businesses to increase profits. Although 2015 saw greater diversity in network television casts especially for Asian Americans, such decisions to expand racial and ethnic representation on television are actually informed by these constructions of racial and ethnic minority Americans as an economically viable market.
16. The Nielsen Company. "Significant, Sophisticated, and Savvy: The Asian American Consumer
More three-dimensional, dynamic representations of people of color on mainstream television is something to be celebrated and critiqued in terms of network motivations for diversity and inclusion. African American marketing advertiser Douglass Alligood states that "diversity is not to be good, diversity is not to be fair, diversity is not to be liked by different people. Diversity is business. And if you want to conduct business with people, you can't ignore them," in Shalini Shankar's Advertising Diversity: Ad Agencies and the Creation of Asian American Consumers.[11] While this quote pertains to diversity in advertising, the ways in which network television programming and the advertising industry are tied together inform a congruent sentiment driving network executive decisions to broaden their reach. CBS Entertainment chairman Nina Tassler stated that the success of shows like Empire and Black-ish informed the development of a more diverse 2015-2016 season, as it was "great for business…These are important steps for all networks, and we just have to keep casting the net wider and wider."[8] Former ABC Entertainment President Paul Lee notes "the changes in the demographics in the U.S. are every bit as important a revolution as the technological changes that we're all going through," referencing the shift of television viewing from screens to the web.[8] This rhetoric on diversity as being good for business fails to consider that diversity in production and casting is necessary for reproducing responsible images of non-white people because of the real-life impacts of misrepresentation and erasure.
11. Lotz, Amanda D. The television will be revolutionized. NYU Press, 2014.
8. Holloway, Daniel. "Lee Trumpets ABC's Diversity #TCA15." B&C: The Business of Television. 14 Jan. 2015. http://www.broadcastingcable.com/news/programming/lee-trumpets-abc-s-diversity-tca15/137080.
UCLA's "2015 Hollywood Diversity Report: Flipping the Script" examined the 2012-2013 season of television and digital shows and films and racial breakdowns of executives, writers, and casts. Television executives are overwhelmingly white: 96 percent of CEOs and chairs, 93 percent of senior management corps, and 86 percent of television industry unit heads are white.[1] In the 2013-2014 season, minorities only held 5.5 percent of executive producer positions, decreasing from 5.8 percent in the 2012-2013 season.[9] Writers of color for broadcast, cable, and digital scripted shows are similarly underrepresented in the writing room. People of color write 10 percent or fewer of two-thirds of broadcast shows, are credited for writing the majority of only 6 percent of cable shows, and write 10 percent or fewer episodes of more than three-quarters of digital scripted shows.[1]
1. Bunche Center. "2015 Hollywood Diversity Report: Flipping the Script." Ralph J. Bunche Center for African American Studies at UCLA. 25 Feb. 2015. http://www.bunchecenter.ucla.edu/wp-content/uploads/2015/02/2015-Hollywood-Diversity-Report-2-25-15.pdf.
9. Hunt, Darnell. WGAW 2015 TV Staffing Brief. Rep. Writers Guild of America, West, n.d. Web. 3 Feb. 2016.
Diversity behind the screen is considered essential in creating opportunities for actors of color. In February 2016, ABC: Entertainment president Paul Lee stepped down and was replaced by ABC's vice president of drama development, Channing Dungey, who will be the first African American to lead a major broadcast network. Her strong relationship with Shonda Rhimes and work in developing shows led by women of color like Scandal, How to Get Away with Murder, and Quantico follows Paul Lee's push for more diverse programming. Dungey's promotion can be an indicator of either further systemic change or a stopping point for networks who have felt that they have already "done enough" to address greater issues of diversity and representation.[7] Actress Gwendoline Yeo states "we need more DPs, more directors, more writers who are interested in that level of storytelling…If more people of color can write their stories, they're going to attract an authentic cast."[6] Of 800 network shows from the 2014 fall season to spring 2015, 6.6 percent have main cast members of Asian descent, and only three shows had an Asian lead (Fitzpatrick). While these percentages appear to reflect the U.S. population makeup of Asian Americans (5.6 percent), they actually underrepresent Asian Americans in the locations in which these shows most often occur (New York and California). The perception of increased Asian American diversity on network television in recent years often overshadows the reality of continuous overrepresentation of white Americans, especially white males, in all levels of network television production.
7. Hibberd, James. "ABC Replaces Top Boss with First Black Female Broadcast President." Entertainment Weekly. Entertainment Weekly Inc., 17 Feb. 2016.
6. Fitzpatrick, Molly. "Of 800 main cast members on 100 network TV shows, just 52 (6%) are of Asian descent." Fusion. 23 Apr. 2015. https://fusion.net/of-800-main-cast-members-on-100-network-tv-shows-just-1793847358.
Neoliberal capitalism has and always will be tied to the production of images which maintain U.S. white supremacy, termed "controlling images" by Patricia Hill Collins in reference to media portrayals of black women as mammies, matriarchs, welfare queens, and jezebels to justify their continual oppression.[3] Controlling images of Asians and Asian Americans are various and contradictory but most notably construct Asian Americans as forever-foreign, threatening (sexually or intellectually), and hyper-feminine to justify exclusionary federal policies and discriminatory societal treatment.[5] While these new television shows attempt to work against reproducing stereotypes of people of color, they still operate within this system which relies upon white mainstream acceptance and profits from minority audience viewership. This framework of "racialized capitalism" and neoliberalism is one which shapes "not only financial decisions but also how people talk about and represent race."[14] The constraints of network television, especially prime-time sitcoms and their supposed appeal to the imaginary universal American audience, can often undermine the subversive potential of marginalized experiences and stories on network television and corporatized web series.
3. Collins, Patricia Hill. "Mammies, matriarchs, and other controlling images," in Black Feminist Thought: Knowledge, Consciousness, and the Politics of Empowerment. Routledge, 1991.
5. Espiritu, Yen Le. "Ideological racism and cultural resistance: Constructing our own images." Race, class, and gender: An anthology (2004): 175-184.
14. Shankar, Shalini. Advertising Diversity: Ad Agencies and the Creation of Asian American Consumers. Duke University Press, 2015.
Model Minorities, Model Consumers
This construction of the Asian American consumer effects what representations they are afforded on network television. Nielsen's messaging towards advertisers reaffirms stereotypes of Asian Americans as model minorities and consumers, reminiscent of news and magazine reports from the 1980s of Asian American success as a model or even super minority.[15] While this report highlights cultural and ethnic diversity, economic diversity is largely glossed over in favor of a narrative which ascribes the Asian American community as "the most highly educated of the multicultural segments and highly entrepreneurial" – positive attributes reminiscent of the model minority myth.[15] The model minority myth upholds Asian American economic and intellectual achievement as models for "less accomplished" minorities in America, specifically Blacks and Latinxs. Asian American success is supposedly inherent to the Asian race, while black and brown disadvantage is similarly attributed to their own racial, ethnic, or cultural failure. The reality recognizes that socioeconomic conditions of these groups in America are shaped by a history of settler colonialism, black slavery, immigration exclusion, and their pervasive aftereffects. The "othering" of Asian Americans in the Nielsen report continues through statements which exoticize the role of "Asian culture" in consumption behavior, which claims that "Asian cultural traditions permeate every aspect of Asian-American' lives, beginning with a person's mental and spiritual balance…Asian cultures respect and celebrate the interaction and connection between the inner self, personal self and public-social self."[16] Considering my experiences as an Asian American and the discourse surrounding the stigma of Asian American mental health, Nielsen's statements about Asian culture, various selves, and mental/spiritual balance are unfounded as they overgeneralize the multiplicity of the Asian American experience.
15. Takaki, Ronald. "Asian Americans: The Myth Of The Model Minority."
16. The Nielsen Company. "Significant, Sophisticated, and Savvy: The Asian American Consumer 2013 Report." Rep. Nielsen, 03 Dec. 2013.
The opportunities for networks to reach wider audiences via online streaming present greater possibilities for greenlighting shows with diverse casts due to data revealing media consumption patterns of Asian Americans. One section of the Nielsen report emphasizes Asian American adoption of new media and utilizes the demographic as an indicator of where the general market is heading in terms of increased streaming of videos and television. 2015 Nielsen data indicates Asian Americans spend less time watching live television than the general population and more time on multimedia streaming devices, and 2013 data shows that Asian Americans also watch YouTube and Hulu more than the total population.[16] Here, Asian Americans are framed as a model for predicting how future media consumption practices will play out for the rest of the American public, without considering the reasons why certain platforms such as YouTube are more frequented by Asian Americans. This racialization of Asian Americans as forward-thinking model consumers, from the model minority stereotype works as "racial naturalization" which makes "the use of consumerism to make claims of legitimacy and national belonging."[14] This usage of the internet for entertainment purposes, possibly stemming from the lack of relatable or identifiable mainstream entertainment available on live television, is instead typified as a phenomenon due to Asian Americans' ability to predict future trends. Asian Americans are then praised for these viewing and consumption practices because it signifies a previously untapped market. It therefore legitimizes Asian American belonging as they are now proven to be a group economically deserving of mainstream content production.
16. The Nielsen Company. "Significant, Sophisticated, and Savvy: The Asian American Consumer
14. Shankar, Shalini. Advertising Diversity: Ad Agencies and the Creation of Asian American Consumers. Duke University Press, 2015.
Screens to Streams
Changing modes of television distribution in recent years from traditional live-television viewing to streaming of television and web series online serve as distinctly different but interactive sites of Asian American representation. Distribution methods of network television have adapted to the era of widespread personal computer usage, smartphones, and the internet, with streaming options of television episodes available on network sites, cable sites, and streaming services like Hulu and Netflix. The start of internet distribution of television in the mid-2000s "provided revolutionary access to viewers" beyond other non-network forms of distribution such as physical copies (DVDs, Blu-rays, etc.) and cable networks ,and they have produced significant shifts in audience viewing behaviors.[11] Physical copies of television series have set a precedent for binge-watching behavior and the normalization of these viewing habits. Binge watching refers to "viewing multiple episodes of a single show over a concentrated period of time" practiced by 67 percent of American television watchers according to a 2013 poll and could be possibly higher with more internet streaming options available today.[13] Television advertising has relied on a decades-long model of live television viewing, which has recently been disrupted by the rise of new technologies, media, and viewing practices. However, the on-demand, digital, and online distribution models have amassed larger audiences than traditional live-viewing and are able to amass user data for advertisers to target them effectively.[11] These changes in network distribution have even "shifted production economics enough to allow audiences that were too small or specific to be commercially viable for broadcast or cable to be able to support niche content" today in ways that would have failed before.[11] For a "niche audience" like Asian Americans who are shown to be above-average streamers of entertainment in recent years, mainstream shows distributed online have provided incentives for networks to target this audience through the creation of shows featuring predominantly Asian American casts.
11. Lotz, Amanda D. The television will be revolutionized. NYU Press, 2014.
13. Pena, Lesley Lisseth. "Breaking Binge: Exploring The Effects Of Binge Watching On Television Viewer Reception." (2015).
The premiere of ABC's Fresh Off the Boat, based off of restaurateur Eddie Huang's memoir of the same name, is the first television show featuring an Asian American cast on network television since the single season of Margaret Cho's sitcom All-American Girl in 1994. During these two decades of Asian American absence in leading network television roles, Asian Americans have found alternative media platforms for self-representation, and have even dominated video-sharing and site YouTube in multiple genres like vlogs, beauty, music, short films, and web series. The success of Asian Americans on YouTube has not gone unnoticed, yet Hollywood and the network television industry continue to limit opportunities for Asian American actors and actresses. These networks also perpetuate racist stereotypes by having actors perform in yellowface at times to misrepresent East Asians. Popular depictions of yellowface have recently occurred in the film Cloud Atlas (2012), and on television in CBS's How I Met Your Mother (2014) which sparked a social media response from Asian Americans hashtagged #HowIMetYourRacism. The announcement of Fresh Off the Boat's premiere was met with celebration and apprehension as its title evokes the familiar stereotype of Asian Americans as "FOBs," or recent unassimilated Asian immigrants, especially because Hollywood and major networks have a longstanding history of racist exclusion and representations of Asians and Asian Americans. Even the historic All-American Girl was criticized for being stereotypical in its depiction of a Korean American family. Margaret Cho revealed in her 1999/2000 live concert I'm the One That I Want that the show's content was controlled by white executives who were wary of alienating mainstream white audiences – the group always kept in mind by executives when trying to create racially diverse shows with "universal" appeal.
YouTube offers alternative means for Asian American creatives to monetize and make a living off their work, as widely viewed videos provide advertisers and companies opportunities to reach online audiences. YouTube works primarily as an "advertiser-supported business model," allowing content creators to partner with YouTube to allow ads to play before their videos and generate revenue based on user interactions with the ads.[11] The late 2000s to early 2010s saw the rise of the Asian American YouTube star – with various Asian American web producers amassing millions of subscribers to billions of views, revealing the existence of a large Asian American audience whose numbers could quantify the need for Asian American targeted content. In 2011, three of the 20 most subscribed channels on YouTube belonged to Asian Americans, and while these channels do not dominate to the same degree today, Asian Americans still have a significant following and presence on YouTube.[4] Many of these most visible Asian American YouTubers are of East and sometimes Southeast Asian descent, and network television shows featuring Asian American casts also focus on East Asian American families. These media representations, building on top of the history of Asian immigration exclusion and activism, contribute further to mainstream perceptions of Asian Americans as East Asians. However, for Asian Americans whose identities align with these popular YouTubers, this form of entertainment is appealing due to its ability to represent a certain kind of shared Asian American experience regarding topics such as anti-Asian racism, family, relationships, food, and culture. The popular realm of Asian American beauty gurus also derives its success from providing makeup tutorials for Asian women with similar features like monolid or double eyelid shapes that are often from mainstream, Eurocentric beauty content. For Asian American actors and actresses whose roles are limited in Hollywood, YouTube provides opportunities to act as dynamic, lead characters in short films, sketches, and web series viewed by millions. Of the few Asian American actors who have appeared in Hollywood films or television shows such as Randall Park, Arden Cho and Ki Hong Lee, they had previously starred in Asian American YouTube short films or series or have had their own YouTube channel. Asian American Studies scholar Darrell Hamamoto has hypothesized that "YouTube has driven the networks and streaming services such as Hulu and Netflix to play catch up because Asian-Americans rule YouTube," making existing and continuing representations on YouTube significant in shaping what is currently seen on networks and subscription streaming sites.[12]
11. Lotz, Amanda D. The television will be revolutionized. NYU Press, 2014.
4. Considine, Austin. "For Asian-American Stars, Many Web Fans." The New York Times. The New York Times, 30 July 2011.
12. Namkung, Victoria. "Realistic Asian-Americans Have Finally Arrived on TV." Vice. Vice Media LLC, 14 Nov. 2015.
While YouTube hosts a variety of web content including web series, without significant amounts of outside funding, network and cable television quality content is rarely produced. Instead, it exists on other major streaming platforms which have delved into producing high quality original online-exclusive content. Netflix, Hulu Plus, HBO Go, and Amazon Prime are all subscription-based streaming services, and Netflix dominates the market with over 75 million subscribers and hosts the largest amount of streaming content. Yet they still face financial issues due to debt and the high costs of licensing content and marketing.[10] The appeal of Netflix and other streaming sites, which have full seasons or series of television shows available, points to recent changes in mainstream television viewing behavior with the rise of binge watching. Netflix's shift into producing more original programming for that specific audience follows its notice of increasing share of internet traffic compared to their competitors. Furthermore, Netflix makes all episodes of each new season of an original series available during its release to appeal to the site's binge-watching culture. In 2015, two Asian American-led series, Master of None and The Mindy Project (previously a network television show on Fox) streamed on Netflix and Hulu respectively. Both shows were praised for their subversive storytelling which delved into topics of immigration, racism, sexism, and abusive relationships, subjects rarely broached on network television. Independent web series are typically sites of producing content outside the conventions of popular network television, focusing on "maximizing creative value" while networks "value advertising volume and price," but post-network corporate online and cable television have increasingly pushed "against TV's homogeneity" and presented another widely visible site of increased, substantive representation of marginalized experiences.[2]
10. Leung, Andrew. "How Does Netflix Pay Studios? What the Streaming Giant Does to Obtain Content." Arts.Mic. Mic Network Inc., 5 Feb. 2016.
2. Christian, Aymar Jean. "Indie TV 7." Media Independence: Working with Freedom Or Working for Free? 2014.
Network television, corporate online streaming services, and YouTube have all been recent sites for growing media representation of Asian Americans by recognizing Asian American economic potential in producing these shows and a need for greater Asian American media representation. However, the Asian American experience is one that is vast and irreducible to being just seen in a handful of popular mainstream representations. When such few representations exist, the dangers of further essentializing a heterogeneous racial group occur when these representations of Asian Americans are received in the context of pre-existing, persisting hegemonic stereotypes. The potential for Asian American self-representation on YouTube is also mediated by the complex current context of a well-established Asian American YouTube creator community, the challenges of sustaining a YouTube career, the kind of content that general and Asian American audiences find entertaining, and the virality of limited kinds of Asian American representations. The current production of Asian American media exist within economic structures which rely upon both the popular appeal of these images and yearning for Asian American counter-narratives to combat misrepresentation and marginalization.
Download full thesis
ABOUT THE AUTHOR
Theanne Liu