Musicology
Exploring the Interpretations of Folk Songs
Three Case Studies in Digital Humanities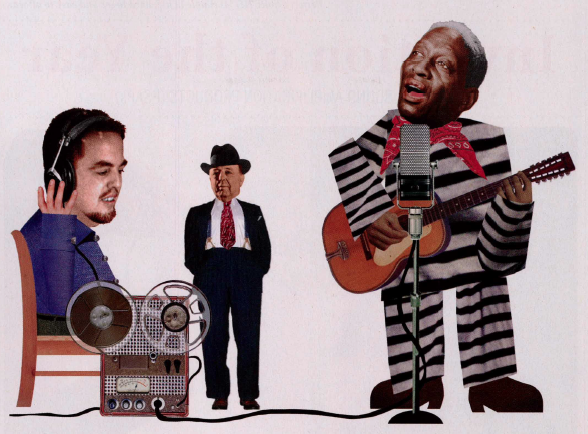 Abstract
Although the Internet has been present throughout my life, I have not used it to its greatest potential in studying musicology and history. Instead it has been a hobby, or according to my parents, a source of distraction. I remember experimenting with my father's printer when I was five to create art projects on countless copies of the reprogrammed test pages. At 10, I received my father's old PC and began to instant message classmates. Around 13, YouTube introduced to me to recordings and videos of legendary pianists performing the same pieces I was learning! Previously I thought I was confined to the introduction performances by my piano teacher and the CDs she fed into her massive stereo system. Now at 21, I realized that I can apply all my previous digital experiences in the highly interdisciplinary field of Digital Humanities.
Digital Humanities shows the ways scholarship is engaging and expanding with the digital. It allows for print culture tradition to interact with digital culture's new modes of communication, inquiry, and knowledge production. I explored different types of experimentations and digital tools to reveal and produce topics for each folk song. Each case study covers one song but can include multiple performances that vary in lyrical, musical, and stylistic content. Thus each study explores multiple musical interpretations through digital means to find topics of further study. The first study uses Photoshop to break down genre barriers between a blues and a grunge performance of "Where Did You Sleep Last Night?" This manipulation raises questions of era, style, race, and emotion. The next case uses visuals in a collage and flow chart format to organize numerous "Big Rock Candy Mountain" albums. The last case uses sound through a mini podcast series to discuss the history of "Tom Dooley" in the context of American culture.
Case 1: Photoshop: Creating Meaning through Visual Manipulation
After researching various American folk songs, I decided to take a break with something totally different, Nirvana's 1993 MTV Unplugged In New York performance. However, I unexpectedly heard Kurt Cobain close the performance with a cover of "Where Did You Sleep Last Night?," a well-known folk song that has circulated since the 1870s and was made popular by blues legend, Leadbelly. I was immediately inspired to dive into research and analysis of this cover as the world of American folk music collided with grunge's biggest superstar.
When introducing the song, Cobain admitted that Leadbelly was one of his favorite performers. Cobain was then reminded by Nirvana bassist, Krist Novoselic, that the owner of Leadbelly's estate was offering the folk singer's twelve-string guitar for $500,000. Cobain revealed his desire and curiosity for the instrument as he informed the audience that he had personally asked music producer David Geffen to pay the exaggerated price. Unfortunately Geffen declined the request leading to Cobain's sarcastic yet perhaps semi-serious statement about a donation basket being passed around during the performance.
This short introduction and brief exchange among the band members gave a simple explanation of why the grunge band was covering a traditional folksong. Yet my questions were not even close to being answered. As a scholar, I was excited to start researching but dwelled on Cobain's performance, wondering what would have been if Cobain acquired the folk legend's guitar. How would that look and more importantly, how would it sound?
I then remembered collages by Peter Carlson about historical encounters. The collages recreated historical encounters such as one featured below.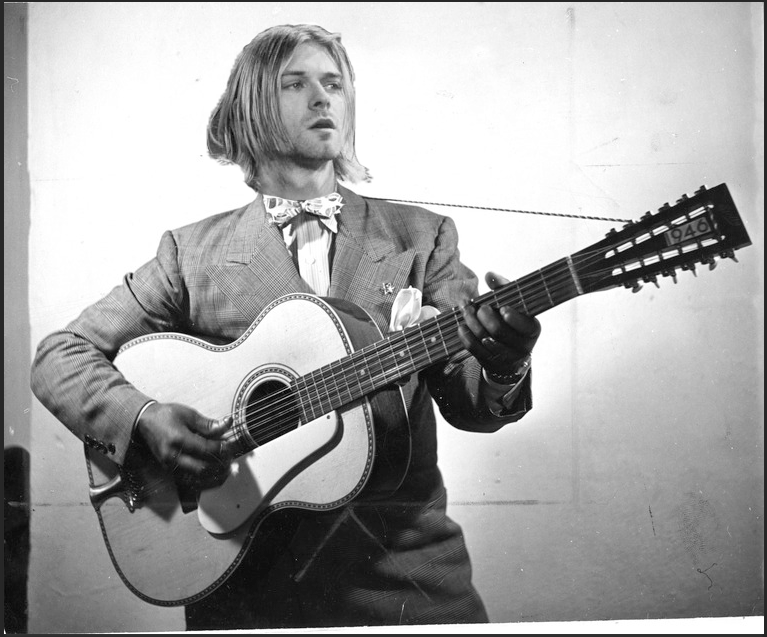 Leadbelly is in costume as the convict who Alan Lomax, in the middle of the collage, encountered or perhaps "discovered" in a Louisiana penitentiary. There is also a modern character that is directly connected to Leadbelly's microphone through a headphone jack. Thus the collage not only visually represents Lomax capturing Leadbelly's folk sound but also demonstrates how Lomax mediated a direct connection between Americans and what was considered a past tradition of raw folk musical expressions. Through the recording process, physical products for an archive created and thus legitimized the expressions into a canon of folk sounds and folk performers.
Interestingly this photo uncovered a historical inheritance of raw, true expression through recordings between Leadbelly and Nirvana and inspired me to create my own visual. Instead of wondering what would happen if Cobain got his hands on Leadbelly's guitar, I no longer had to imagine thanks to the digital experimentation of Photoshop. The result is the Photoshop piece presented at the beginning of this section. The original photo of Leadbelly shown below was chosen due to the prominence of the guitar and Cobain's head was taken from a shot from the MTV Unplugged performance where he performed the Leadbelly cover.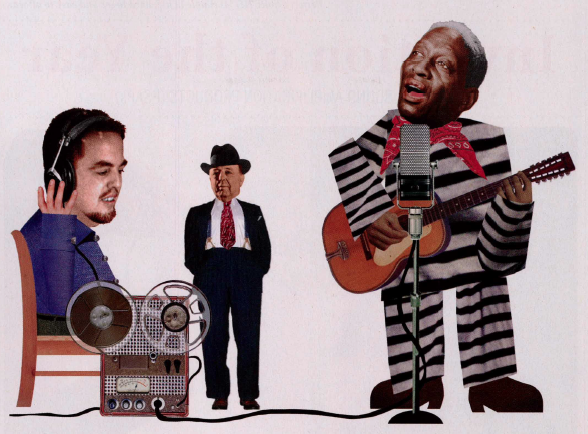 The simple digital manipulation of this Photoshopped image led to a richer and deeper analysis. The digitally created visual of an encounter between folk and grunge became an interface onto which I was able to project and develop questions. As I continued to dwell on the digital creation, I asked myself how would Cobain have approached this guitar? Why did he want the folk musician's overpriced old guitar when he performed on cheap second-hand and pawned left-handed electric guitars? Was there anything special about the instrument? Why was Cobain attracted to Leadbelly and his music? Are there noticeable influences in Cobain's musical output? How do the sonic and stylistic characteristics of the musicians' guitars compare and contrast?
Not only did the Photoshop piece help spark questions, but it also uncovered important yet obvious points that I might have missed without a visual aid. Race and historical context are glaring disparities that the Photoshop piece had to overcome. Cobain's head had to be modified to blend into the black and white photo. However, the disparity of Leadbelly's darker hands was not a Photoshop project I was ready to deal with. Thus I left Leadbelly's hands unaltered, which also led me to imagine if Cobain played like Leadbelly. How does race affect the analysis of musicianship?
Digital manipulation proved to be a highly useful and stimulating digital process as it helped in forming potential theses and approaches to develop with further research and study. This process lead to research on both guitarists' musicianship, including their approaches to guitar and voice, choices in style, tempo, and instrumentation, and genre transformations and formations between folk, blues, and grunge.
Case 2: Collage: Big Rock Candy Mountain[s of Albums]
I first encountered the song "Big Rock Candy Mountain" through recordings by Harry McClintock and Burl Ives. Since the recordings vary greatly in sonic and lyrical performance, I could not ignore a discussion on authenticity. The Ives performance includes embellishments that create a more popular and mainstream version, while McClintock's version is perceived to be more authentic with a more "folky" sound due to his rougher voice and guitar style.
With these two distinct recordings in hand, I figured this song would give way to an interesting exploration of how folk songs are obscured through oral transmission, performance styles, and popular marketing. However, I soon discovered countless recordings that varied greatly in style, lyrics, and marketing. I gathered as many recordings as I could, which I later narrowed down to include a diverse offering. To comprehend the recordings' performance styles and marketing, I decided to look at the types of albums they were featured on and paste them together into collages. The collages helped to compartmentalize multiple recordings as I was able to consolidate them into several groups. The design of the album covers not only created a visual aid but also revealed several parallels in marketing and design.
Master Collage of Album Covers (in no particular order)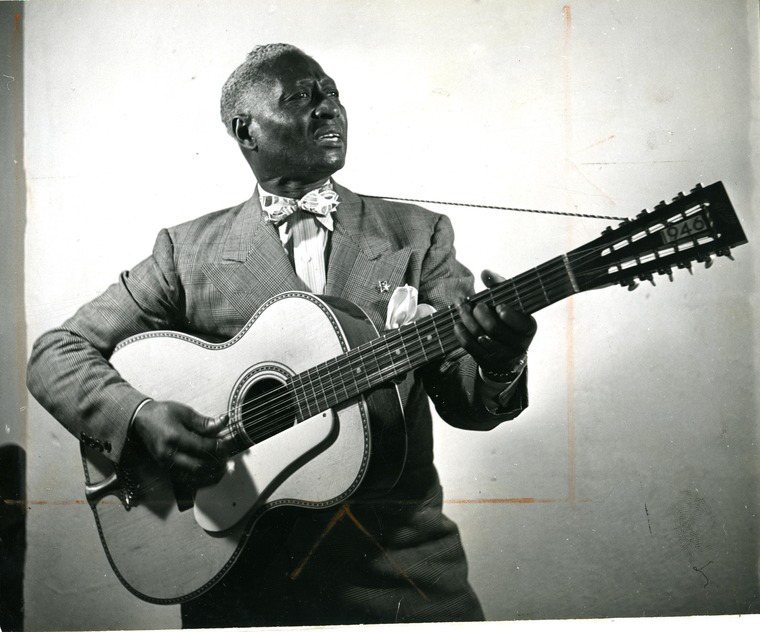 I decided to make a master collage of the albums to see how they all looked together. I had a few categories in mind before the collage, yet after creating the master, I found new categories based on the visuals and design. For example, I noticed that a few albums depicted performers with their guitars.
Guitar, Featuring the Smithsonian Folkways Tom Glazer Album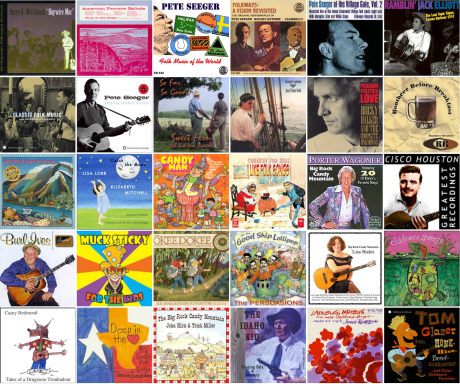 This collage revealed various streams of performance present in "Big Rock Candy Mountain." Tom Glazer is the odd one out as he edits the lyrics with images of food and games to appeal to children. Casey Remond is also unusual. The album cover protrays a cartoon dog with its paws stretched out instead of on the guitar performs, while the recording of the song is performed in the style of Bob Dylan. The other album cover include photos of the singers with their guitars and are marketed with a more serious tone. These albums include folk and country styles of performance including acoustic guitar, banjo, and fiddle as their accompaniment instrument.
Canonic Folk Performers, Featuring "Original" Version Performed by Harry McClintock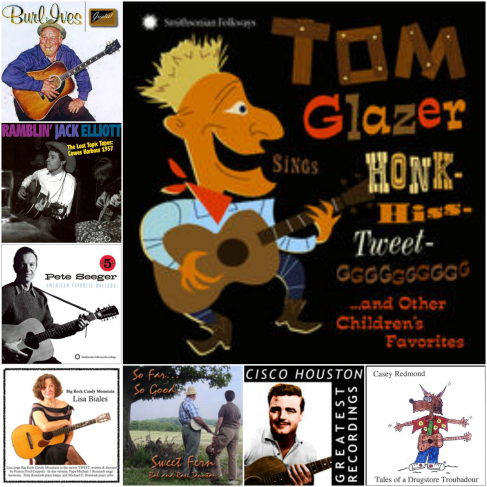 These recordings include performances that are deeply embedded into the folk canon. Performers include Pete Seeger, Ramblin' Jack Elliott, and the original composer Harry McClintock. I assumed their recordings would be similar in style and lyrics, yet I found that Seeger actually merged McClintock's original version with the popular version by Burl Ives. Although Seeger was at times a folk purist, he believed in disseminating folk music to as many audiences as possible. Thus combining a well-known version with the original creates a hybrid that would appeal to a mainstream audience and folk enthusiasts.
Pete Seeger Collage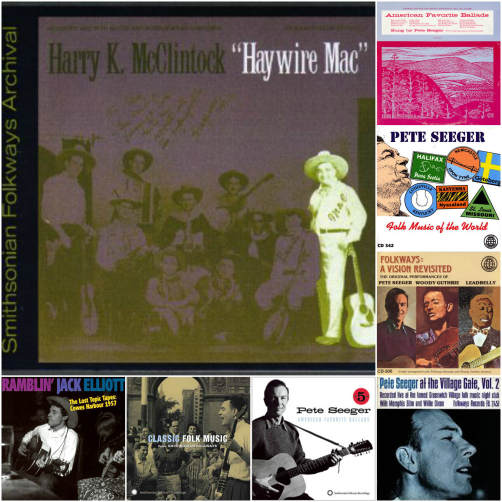 While gathering album covers, I realized there were multiple recordings by Pete Seeger. He was a highly influential figure, which explains his re-releases and compilation albums. I originally forgot to include one of the Pete Seeger Albums so I remade this collage.
Pete Seeger Collage_edited

The album I forgot to include depicts a scenic view of mountains in blue and pink colors. It contrasts so greatly with the Pete Seeger albums above that it seems out of place. The album turned out to be the oldest recording, released in 1958. It reveals how marketing techniques evolved as Seeger's place in the folk music canon grew in importance since his image would ensure sales of the album. The albums emphasize Seeger's role as a performer. The Folkways re-release includes Seeger next to other folk legends Woody Guthrie and Leadbelly. This positioning of Seeger next to Guthrie and Leadbelly is very powerful as it legitimizes his role in the American folk performance tradition.
Children Collage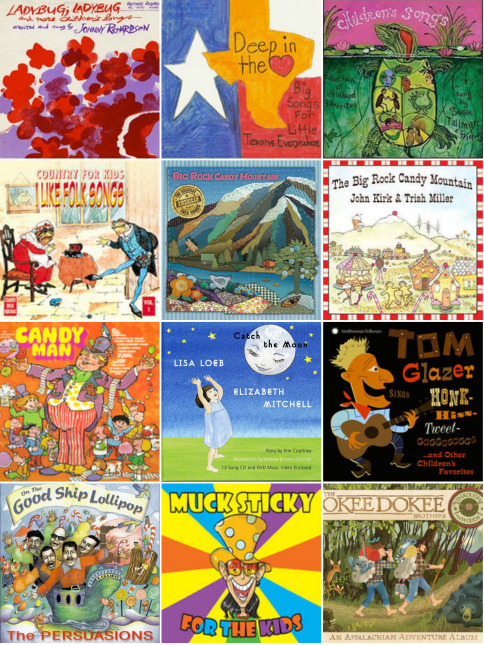 The collage of children's albums proved to be the most diverse in style even though they are all generally marketed in a similar fashion. Most of the performers edited the lyrics for younger audiences as they replaced lines referencing cigarette trees and streams of alcohol. Deep in the Heart of Texas: Big Songs for Little Texans Everywhere includes a performance by Pat Green that includes heavy instrumentation including banjo, drum set, and fiddle. Lisa Loeb's version includes a heavily edited guitar accompaniment with lullaby-esque vocals and some harmonization. Her lyrics are heavily edited by describing the Big Rock Candy Mountain as "a land… where the clouds are many colors and the air is clear" with a silver and gold lake. The Okee Dokee Brothers also edit their lyrics but with images of food such as butterscotch, peppermint, and chocolate. Susie Tallman on Children's Songs: A Collection of Childhood Favorites also edits the lyrics with food and performs with hardcore country vocals, a technique which Catherine Britt also utilizes.
Big Rock Candy Mountain: Family Tree-Flow Chart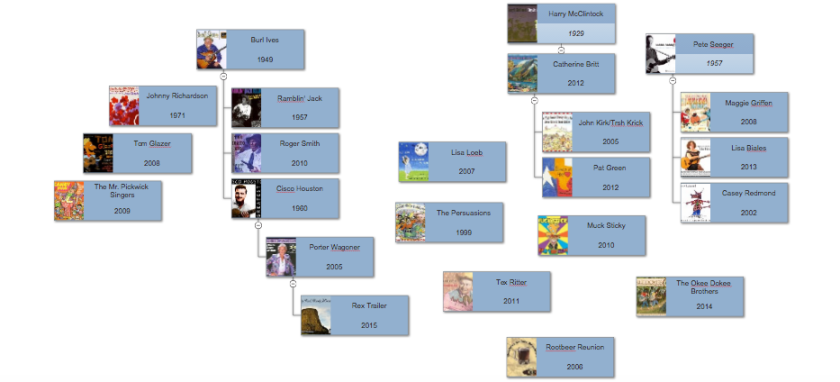 After composing and analyzing the collages, I decided that a family tree of the recordings would provide a useful tool to track the development of each interpretation. Harry McClintock is the original composer and is placed the highest, while Burl Ives and Pete Seeger are placed lower but have their own lineage as they greatly influenced how the song was later performed. There are some recordings that are outliers in the chart due to their overhaul in lyrics and performance styles; however they are placed accordingly by the lineage that has the greatest influence on the song. Burl Ives proved to be the most influential in terms of lyrics, yet Harry McClintock's original version about hobo culture and folk expression provided a cultural and musical framework that was used to perform and market almost all interpretations of the song.
Case 3: Podcast Mini-Series: Tom Dooley
This last case on the folk song "Tom Dooley" began as a single podcast episode but was then divided into four episodes to create a mini-series. This case required dense research that was consolidated into a script format, then further condensed to provide an easy-to-follow narration. The ability to include audio clips not only added to the flow but also provided examples in real time. Overall this approach was a dynamic, fun way to produce a research project as well as addressed the goal of Digital Humanities goal to share content. The titles and a brief summary of each are provided below.
1. An Introduction to Tom Dooley: A Murder Ballad
This introduction episode introduces the song's origin as an oral tabloid in the North Carolina and Tennessee areas. It includes excerpts of the song's identifiable melodies, lyrics, and instrumentation.
2. Is It Authentic?: Personal and Musical Connections to a Murderer
This second episode travels through three recordings of the song by performers who had personal and familial connections to Tom Dooley story. The recordings included are by G.B. Grayson, Frank Profitt, and Doc Watson. Issues of authenticity are discussed through the varied performance practices as lyrics and instrumentation are compared.
3. Entering the Mainstream: Igniting the Folk Revival
This episode explores the 1958 Kingston Trio recording as it become one of the most popular songs of the time. Its position in the music industry and American mainstream culture is examined as this version is considered to have ignited the great folk revival of the late 50s and early 60s. The Kingston Trio's history and their performance style is discussed to answer why it enabled folk to reemerge as a part of American popular culture.
4. The Humor and Parodies of American Folk Music: Tom Dooley in its "Virgin Form"
This last episode explores the tensions and contradictions of American folk music becoming commercialized and mainstream due to the folk revival. Discussion starts with the popularity of the Kingston Trio's recording to a parody by the Smothers Brothers, culminating with an examination of a scene from the mockumentary A Mighty Wind.
ABOUT THE AUTHOR
Melissa Ileana Codd