Associate Professor of Design at Northwestern University, Faculty Founder of Design for America, Co-Founder of the Delta Lab, and Director of the Segal Research Cluster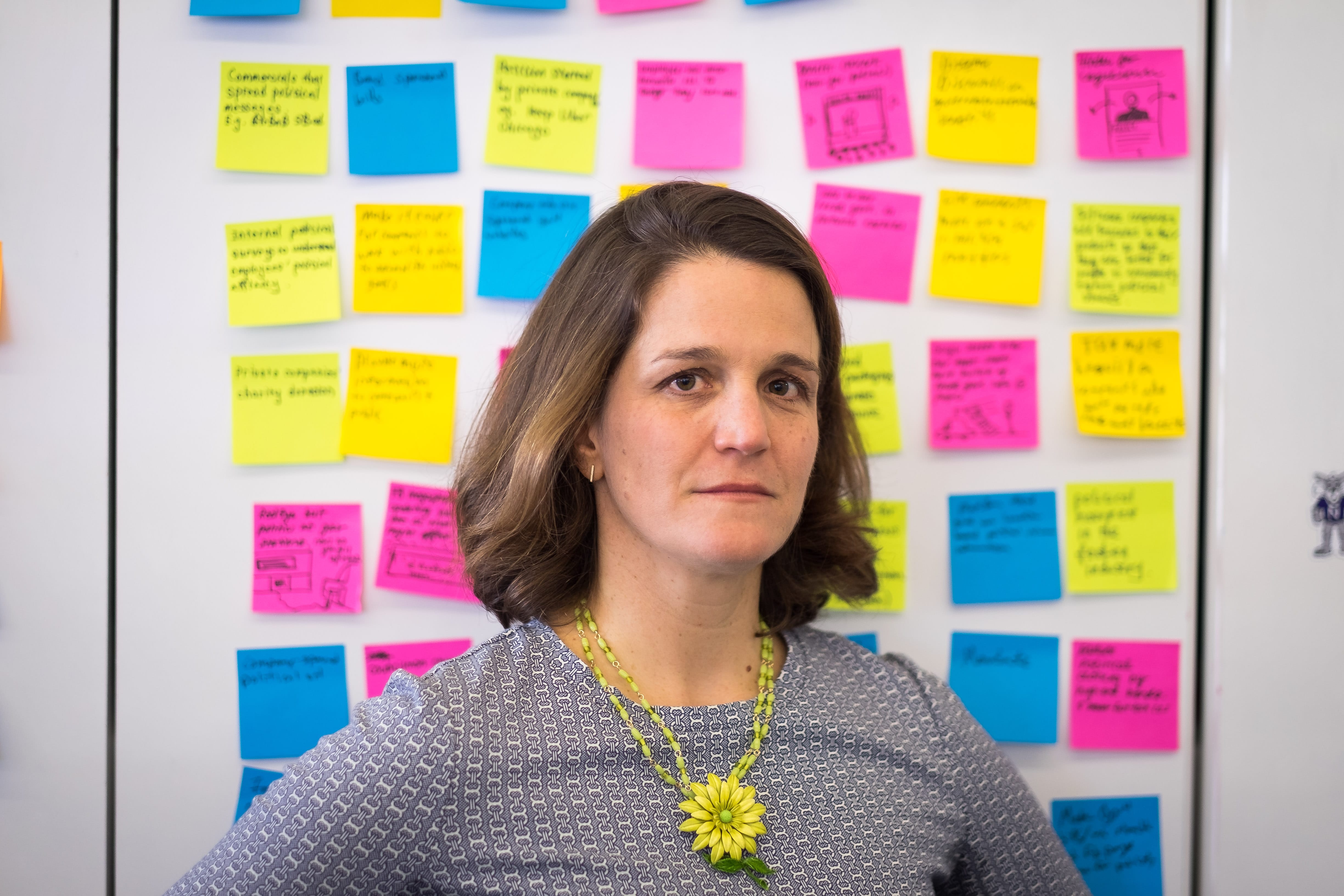 According to Dr. Gerber, her childhood alone could probably explain who she is today. Her mother was an art professor, her dad was a basement tinkerer, and her grandfather was a community organizer. It's no surprise that she has an interdisciplinary background in art, engineering, psychology, and management. Today, she is an Associate Professor of Design in the McCormick School of Engineering and School of Communication, the Faculty Founder of Design for America, Director of the Segal Research Cluster, and Co-Director of the Delta Lab, a research lab and design studio at Northwestern. Currently, she is taking sabbatical at Stanford University, where she completed her Master and Doctoral degrees, and is researching how to scale innovation practices in large organizations.
You're working in the technology space which moves pretty quickly, how has your research changed over the years?
First, I love how quickly technology evolves. I'm intensely passionate about doing research that is relevant both to the futures as well as our day to day lives – that's why I became interested in design. Design is fundamentally about interactions and improvements to the future of people's day to day lives. Given my background in engineering, I've always been fascinated by technology and certainly the rapid development of it over time. I feel like I'm a scout in some ways...trying to figure out what new things are happening. I can't be complacent, sit back, and stay alone in my office coming up with ideas. I also get bored very easily. So, if you get bored easily, studying and designing technology is a fabulous panacea for it.
You studied studio art and engineering as an undergraduate, how have they influenced you and where do they intersect?
I see innovation as the intersection of the aesthetic, which comes from art, function, which comes from engineering, and needs and values, which comes from psychology and management. When I was an undergrad, I struggled to find research at this intersection. There were people in siloed groups doing research in art, engineering and psychology, but it wasn't clear how to integrate all three. Once I understood this model for innovation, I was more confident that there was a research agenda to be had at that intersection.
What have you observed about being a researcher in the technology space?
There is a real imperative for academic researchers in the technology space to ask the really difficult questions about the role technology is playing and will play in our work and at play. Many of my colleagues at large technology corporations have huge research arms. They're asking a lot of interesting questions, but a lot of them come down to product and product implications. As academics who study technology, we have the privilege and responsibility to call out biases and inequalities in the way technologies are designed. For example, my students and I have looked at biases inherent in the design of crowdfunding platforms. Crowdfunding is an interesting mechanism for distributing financial resources to those who don't have access to wealthy networks and venture capital, but the current design of the platform requires sophisticated skills to participate, eliminating access to others. So is it creating a social hierarchy we already have in the non digital world? Yes. I want to advocate for academic researchers to expose the impact of technology that our industry colleagues who are either not allowed or are discouraged to explore.
Can you tell me about your lab at Northwestern?
I have a lovely lab with smart, hard working graduate students, and phenomenal undergraduates who work there. Delta Lab is run by myself, Matt Easterday, a learning technologist, and Haoqi Zhang, a computer scientist. We came together because we realized our interdisciplinary perspectives would help us produce much better research of complex technologies. Students are attracted to our lab because of the interdisciplinary quality of the work, the design based research approach we take to our work, and the societal impact of our work. We don't just focus on theory, product, or impact; we focus on all three. The design process informs the theory and impact, the theory informs the product and long lasting impact It's a relationship, which we feel fundamentally works for our research, and it keeps us deeply engaged.
What advice would you give to undergraduates who are interested in research?
You may not get it right the first time. When I was an undergrad, I received a prestigious fellowship called the Presidential Research Fellowship. I went to work in a psychology research lab and I found field research fantastic, but I found doing an extensive literature review in that particular domain, mind-numbingly boring. After that, I declared that I would never become a researcher. However, I was shortsighted in that I limited my understanding of research to that particular domain. By working in industry and gaining more life experience, I was able to find a research domain about which I am passionate. So, you might have to try a couple of different times to figure out your research interest and passion.