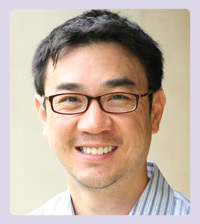 Anthony Chen is an associate professor of sociology at Northwestern University. He is a political and historical sociologist whose interests lie in civil rights, social policy and affirmative action, about which his book, The Fifth Freedom reviews. His previous appointments include a professorship in sociology at the University of Michigan and a Scholar in Health Policy Research at the University of California, Berkeley.
How did you discover your passion for sociology?
I didn't really know what I was going to major in when I started college and it wasn't by accident that I got interested in sociology because I was quite interested in social science research but I couldn't quite decide which field to settle into and it turned out that the sociology department had really talented teachers at my undergraduate alma mater and so almost by default I accumulated a ton of credits in sociology and I got inspired to do what they did. I was not born wanting to be a sociologist.
When you were younger, did you imagine yourself in any other career or profession?
I thought I might be a lawyer for some time. I never really thought I would be an engineer or doctor. I was always too squeamish to be a doctor. I'm still to squeamish. It was only in college that I got the sense that I didn't want to be a lawyer and so I tried to explore other career possibilities and being a professor sounded very appealing.
What are some challenges that you've encountered in your professional career?
There are a lot of different challenges. Some challenges are trying to do research and to then publish that research. You have to publish enough of it and good enough research that people think you are worthy of getting tenure.
What is a typical day of research like?
I'm a historical sociologist so there are several types of typical days. One type of these days is a day when I'm in the archives and I'll work with an archivist to identify manuscript collections that are relevant to my research and I will look at hundreds if not thousands of documents and I will take pictures of the documents that I find to be most relevant that I'd like to keep a record of and look at more closely later. I'll do this for eight hours with a lunch break. Once I've found what I needed there's two more stages – analyzing what I've found which means sifting through thousands of pictures of documents to make sense of them and to categorize, sort and sequence them in an order that I want to write them up in. A third type of typical day is a writing day when I wake up, make a couple of pots of coffee and sit in front of the computer and try to say what's on my mind.
What was your most memorable research experience?
One whole summer I drove around the country collecting archival evidence in a number of different cities in a rental car. It wasn't like Harold and Kumar but maybe just Harold. I found a series of cities where there were all these archival documents that I needed to look at and I rented a car and I went from one city to another. It was one road trip that I spent collecting archival evidence while I was an assistant professor at the University of Michigan and that was pretty memorable.
What topics in sociology interest you?
I'm very interested in political sociology and public policy. I have three affiliations – my main one is with the Department of Sociology and I have another appointment at the Department of Political Science and another affiliation with the Institute for Policy Research. This year, I'm also affiliated with the Kaplan Institute for the Humanities
What advice would you give undergraduates who are interested in sociological research?
It's important to develop a sense of what they think we need to know more about. I think that everyone has an opinion about the world but there is a literature in the social sciences that you can interpret as the accumulation of what we know. But we don't know everything and some of what we think we know, we don't actually know very well. I think that undergraduates who are interested in sociological research would do well to begin to develop a sense of what do we need to be doing research on. What are the gaps in the literature? What is it that we think we know, but that we don't know that well? What assumptions are we making that aren't warranted? That's a very difficult skill to develop because it requires you to understand what people say we know and it requires you to have legitimate doubts about what they say we know. Having that critical sensibility and being able to identify promising research topics is a skill that you can't develop too early.
Why did you choose to come to Northwestern?
The historical sociology crew here at Northwestern is exceptionally strong so I learn a lot from my colleagues in the area being here. Being around people who are interested in the same type of sociology as you makes your work a lot better because you can run ideas by them if you have doubts and together you can figure out how to address your research problems.